ELAN-Film® and printed electronics join forces!

In the field of printed electronics, the demands on the pastes and the substrates are continuously increasing. One example is their use under elevated temperatures. Our Bectron® CP 6690 and Bectron® DP 8490 pastes were developed specifically for this purpose and can be applied in a structured manner by means of screen-printing to different substrates, for example glass, Kapton® or our ELAN-Film® material.
ELAN-Film® is our innovative, flexible electrical insulating film, ideally suited to satisfying the requirements for operation in temperature ranges up to 200°C. The material was originally developed as a flexible insulating material for the protection of all types of electrical applications against mechanical, environmental and thermal loading.
However, the use of ELAN-Film® is not restricted to purely electrical applications. Due to its special smooth surface property, it can be printed directly. This makes ELAN-Film® the perfect partner for our printed electronics and their Bectron® screen pastes.
The development of high-temperature resistant screen-printing pastes is not at all trivial. These must guarantee the flexibility of the substrate under the relevant environmental conditions at the corresponding temperatures over a long lifetime. The mechanical and electrical properties must remain constant. In order to satisfy these requirements, we make use of our internal know-how in the field of base material requirements. Furthermore, a wide range of technical possibilities, such as temperature shock tests or storage in climatic chambers, is available for investigating the properties of the functional screen-printing pastes. Our goal is to furnish our customers with as much information as possible for their potential applications.
Particularly for high-temperature applications, the investigation of the resistance behaviour of the functional pastes is very important. The figure below illustrates an example of such a measurement: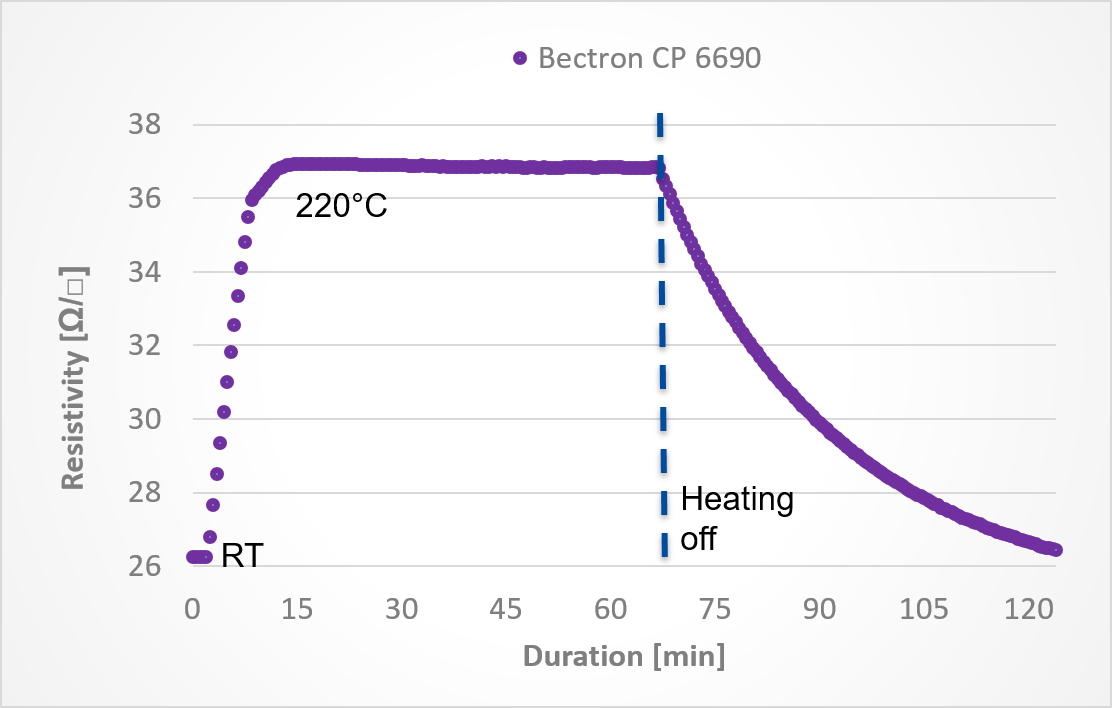 In the figure it can be seen that the resistance increases with an increase in temperature, but then remains constant for the duration of the loading and, following the heating process, returns to its original value.
Just as often, the protection of the printed conductor track is important. This is why the Bectron® DP 8490 insulator was developed and matched to the highly conductive silver-paste Bectron® CP 6690. It can be applied to create a multi-layer structure in order to protect the conductive layer against external influences, such as mechanical loading. The combination of ELAN-Film® and functional screen-printing pastes therefore offers ideal potential for the production of flexible electrical components to particularly extraordinary temperature requirements.
For questions about the choice of appropriate materials or application-specific topics, please feel free to contact us directly under advancedPrinting@remove-this.altana.remove-this-also.com