• Sales decrease by 11 percent, amounting to 1,393 million euros
• Half-year EBITDA margin at 14 percent
• Research and development expenditure grows by 5 percent
• Continued expansion through agreed acquisitions

Wesel, August 24, 2023 – Specialty chemicals group ALTANA reported an 11 percent decline in sales to 1,393 million euros in the first half of 2023 as a result of the general economic deceleration. This is predominantly attributable to a decrease in demand across diverse industrial sectors. Earnings before interest, taxes, depreciation and amortization (EBITDA) reached 196 million euros, 27 percent below the previous year's figure. In addition to lower sales volumes, this was ascribed to the persistent elevated material costs. The EBITDA margin stood at 14.1 percent (previous year:
17.0 percent).
In spite of the high level of uncertainty in the market, ALTANA again increased its research and development expenditure by 5 percent to 99 million euros in the first six months of the current year. The specialty chemicals group augmented its investments, particularly in site expansion and further digitization, by 52 percent compared to the corresponding period last year. ALTANA also fortified its market standing through strategic acquisitions. "Especially in times of economic fluctuations, the significance of continued targeted investments in the future is paramount," remarked Martin Babilas, CEO of ALTANA AG. "We keep on pushing forward innovative solutions aimed at addressing the critical challenges of our time – drawing on our own resources and by acquiring promising ventures."
Second largest acquisition in the company's history
Just a few weeks ago, ALTANA announced the acquisition of Von Roll Holding AG, based in Breitenbach, Switzerland. The transaction is the second largest acquisition in the company's history. It encompasses the purchase of a majority stake from the previous owning family, alongside a public tender offer for the residual shares that are still traded on the Swiss stock exchange. In 2022, Von Roll generated net sales of 228 million Swiss francs with around 1,000 employees at 14 sites worldwide.
Von Roll is a leading specialist in electrical insulation systems. The company's technologies and products are used in wind turbines, electric cars, and industrial plants, for example. The company's novel insulation systems and special resins for the high-voltage sector are particularly future-oriented. Von Roll is to be integrated into the ELANTAS division. "We are combining the innovative strength of both companies to drive forward the expansion of electromobility and renewable energies," says ALTANA CEO Martin Babilas.
ELANTAS' products are already contributing to the ongoing energy transformation. The division's wire enamel systems, for example, play a crucial role in enhancing the operational lifespan of wind turbine generators and expediting the recharging process for electric vehicles. Moreover, ELANTAS' casting materials are presently integral to Europe's first Hyperloop with passenger capsule, an innovative high-speed transportation solution.
ALTANA announced an additional acquisition at the beginning of August. The specialty chemicals group is acquiring the business of the U.S. company Imaginant Inc. to further strengthen its portfolio of testing and measuring instruments in the BYK division.
Economic weakness felt in all divisions
The prevailing economic fragility reverberated across all divisions. The largest division, BYK, recorded a 14 percent decrease in sales to 625 million euros. Adjusted for acquisition and exchange rate effects, sales were 13 percent below the previous year's level. The acquisition of the business of Imaginant Inc. will take effect in the second half of 2023. The effect pigments specialist ECKART achieved sales of 181 million euros, corresponding to a 15 percent decline in sales (both nominal and operating). ELANTAS, a supplier of electrical insulation materials, recorded sales of 324 million euros, down
8 percent (6 percent in operational terms) from the prior-year figure. ACTEGA's sales fell by 8 percent (nominally and operationally), amounting to 262 million euros.
Europe remains strongest region in terms of sales
During the first half of 2023, all geographical regions were affected by the decreasing global demand as a consequence of the economic weakness. Europe, which remains the strongest region in terms of sales, garnered revenues of 543 million euros, marking an 8 percent decline (both nominally and operationally). Sales in Germany were down 12 percent
(13 percent operationally). In the Americas, sales fell by 8 percent (10 percent operationally), aggregating to 403 million euros. The U.S. market decreased by 9 percent (10 percent operationally). Asia bore the most substantial impact, with sales declining by 19 percent (15 percent operationally), resulting in total sales of 419 million euros. This decline was predominantly driven by the Chinese market, which contracted by 22 percent (18 percent operationally) within the same timeframe.
At mid-year 2023 (June 30), ALTANA employed 6,911 people worldwide, 71 more than on June 30, 2022.
ALTANA does not anticipate a substantial recovery in the global economy during the second half of the year and, on this basis, foresees a decrease in sales in the upper single-digit percentage range for the full year 2023. To stabilize both earnings and cash flow ALTANA is implementing targeted measures. "Given our financial and innovative strength, the agreed acquisitions, and in particular the resilience demonstrated by our business model across numerous years, ALTANA is strongly positioned to navigate the challenges of the present landscape and capitalize on emerging prospects in a manner that generates value," said ALTANA's CFO, Stefan Genten.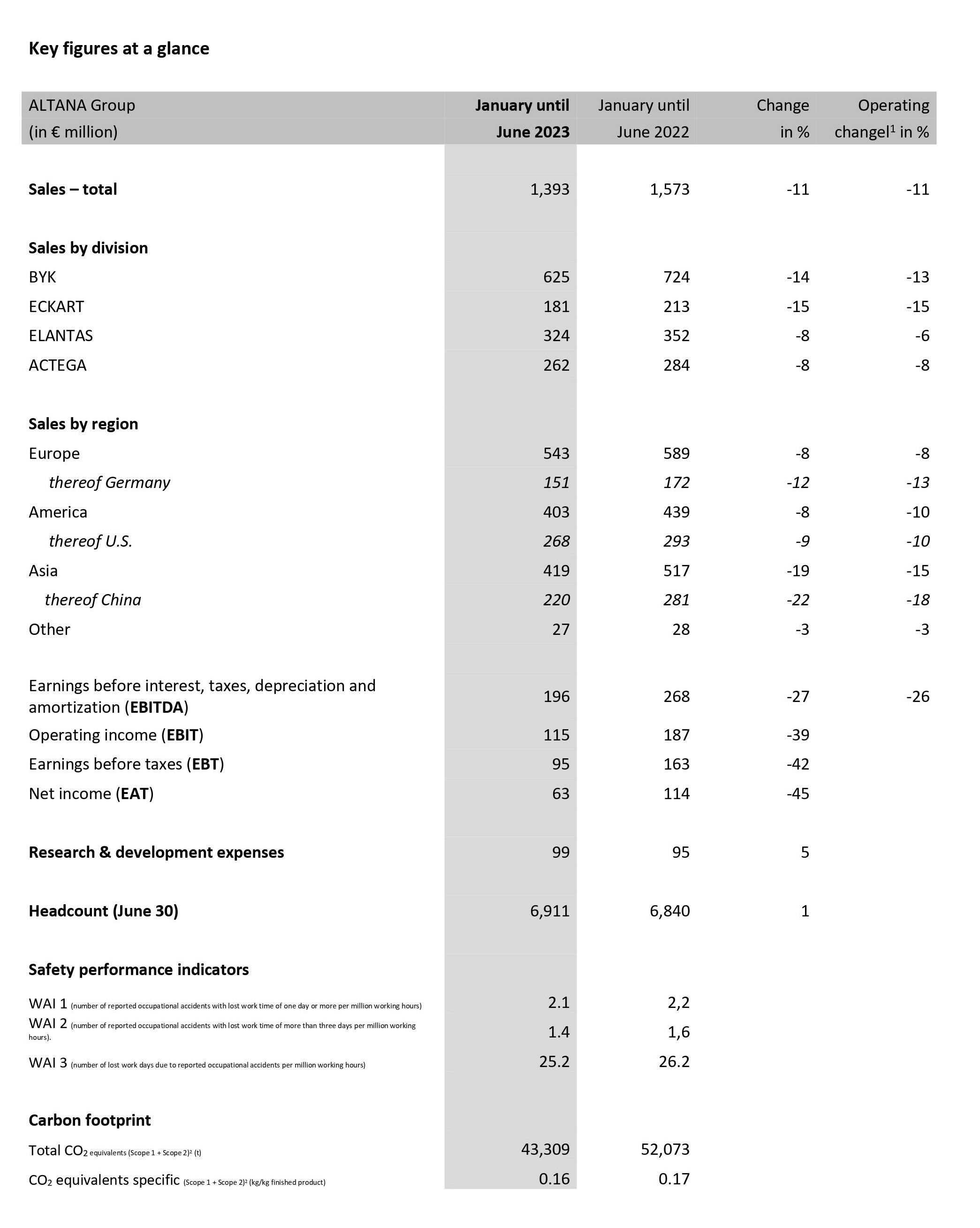 About ALTANA:
ALTANA is a global leader in true specialty chemicals. The Group offers innovative, environmentally compatible solutions for coating manufacturers, paint and plastics processors, the printing and packaging industries, the cosmetics sector and the electrical and electronics industry. The product range includes additives, special coatings and adhesives, effect pigments, sealants and compounds, impregnating resins and varnishes, and testing and measuring instruments. ALTANA's four divisions, BYK, ECKART, ELANTAS, and ACTEGA, all occupy a leading position in their target markets with respect to quality, product solution expertise, innovation, and service.
Headquartered in Wesel, Germany, the ALTANA Group has 48 production sites and 63 service and research laboratories worldwide. Throughout the Group more around 7,000 people work to ensure the worldwide success of ALTANA. In 2022, ALTANA achieved sales of more than 3 billion euros. Around 7 percent of sales are invested in research and development every year. Its high earning power and high growth rate make ALTANA one of the most innovative, fastest growing, and profitable chemical companies in the world.