UV-curing Conformal Coatings - Modern Approach Protecting Electronics
UV-curing of conformal coatings is the most modern solution when transforming conformal coating from liquid to a solid state. These materials offer an increased flexibility for the process management. UV-curing conformal coatings are more environmentally friendly than a classical varnish because they do not require any solvent and hence represent VOC free materials.
Traditional conformal coatings are resins diluted into solvents.
Successful examples of this class of materials are Bectron® PL 1104 (acrylate resin based) and Bectron® PL 4122-40E BLF FLZ (alkyd-polyurethane resin-based).
Varnishes are coming with quite some advantages. They provide a preliminary cleaning of the surface by the solvent. Experiences in application exist since decades. However, the solvents are more and more questioned as a source of volatile organic compounds (VOC), an increase of the CO2-footprint due to the heat which is necessary to evaporate the solvents and, hence, creating additional costs.
UV-radiation to cure a polymer is a well-established technology. In most applications UV-radiation allows full cure of the material within an instant of seconds.
UV-cure sounds attractive because it offers fast processing and a shorter cycling time, in contrast to a furnace process or a day lasting moisture cure. UV-curing materials usually do not contain organic solvents and hence can be considered as VOC-free; the term 100%-material is also used in this aspect. No solvent also means no risk of bubble formation due to solvent evaporation. No solvent also disburdens from a complicated optimization of a furnace profile. Finally, an UV-cure equipment requires less space in factory than a line furnace. If the UV-energy is well used and the design of the material is well done, one might expect a better energy efficiency of the cure and an improvement on the CO2-footprint.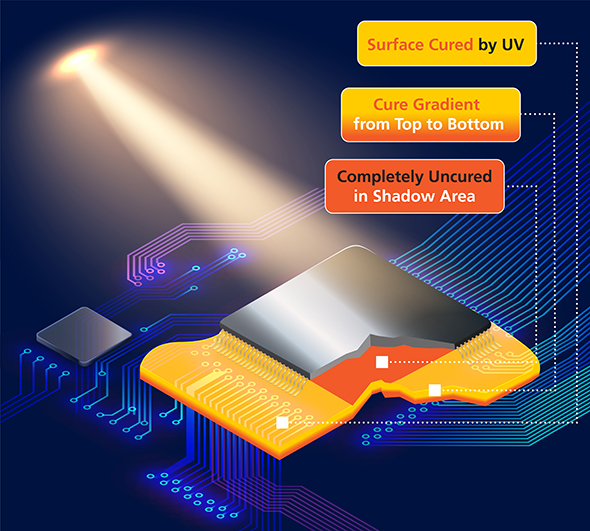 In reality, things are a little bit more complex, and the world of an electronic board requires the capacity to cure without UV-light underneath electronic components such as Surface Mound Devices (SMD), resistors, processors, capacitors or LED-components in so called shadow areas. To ensure cure in these shadow areas a secondary cure mechanism either by moisture or by temperature is intentionally added to a professional UV-curing conformal coating.
The cure of a UV-conformal coating on an electronic board takes place as follows:
The material is applied by cross-curtain, spray, dispensing valves or brushing under yellow light – free of UV-radiation.
The material spreads on the board, it also gets enough time to reach the space underneath components.
Then, UV-light either by a UV-broad-band lamp or by an UV-LED is applied to the coating. The UV-light starts a cure which results in a fixation of the conformal coating on the board. The cure in the shadow-area – and depending on the layer thickness – in high depth is not fully realized yet.
Here the secondary cure mechanism comes into play which is either based on humidity or temperature and finalizes the cure process.
Depending on the application of the electronics in the field, different chemistries are needed to cover different requirements, such as different board designs, high temperature performance, dust protection, moisture or chemical resistance. These requirements must be brought in accordance with different material properties, such as the coefficients of thermal expansion and material hardness. Current standard solutions of UV-curing conformal coatings are listed in the table below.
Product
Second Cure
Mechanism
Typical Range of
Application / °C
Viscosity
/ mPa • s
UL 94
Hardness
/ Shore
Dielectric
Strength / kV/mm
Bectron® PT 4600
Moisture
-40 to 120
1 000
V-0
A 65
20
Bectron® PT 4601
Moisture
-40 to 120
1 700
-
A 65
20
Bectron® PT 4606
Moisture
-40 to 120
38 000
-
A 75
20
Bectron® PT 4700 N
Moisture
-40 to 125
150
V-0
116
Bectron® PL 5621D
Heat
-40 to 130
400
-
> D 80
165
Bectron® PL 5622-250
Heat
-40 to 150
250
V-0
A 85
50
ELANTAS Europe develops, produces and commercializes UV conformal coatings based on chemistries such as acrylates, urethanes, silicones and epoxides.
The Bectron® PT 46-series represents the product range with almost identical chemistry but varying viscosity. This allows to realize coatings of different layer thicknesses on the board as well as complex wet-wet-processes even up to a dam and fill scenario.
Bectron® PT 4700 N offers a very low viscosity allowing layer thicknesses of 40 – 150 µm and hence coming close to a thin film coating.
Bectron® PL 5622-250 is an epoxide-based UV-curing material which offers excellent chemical resistance, higher heat resistance than acrylic/urethane systems and excellent mechanical protection.
These materials have been extensively tested under harsh conditions such as 85°C/85 r.h. and thermal cycling.
The Bectron®-Team will be happy to support you in the choice of your material: bectron.ELANTAS.europe@remove-this.altana.remove-this-also.com.