Electronic protection as a solution for modern design and reliability

The miniaturisation of electronic modules and the increasing quality expectations for electronic components pose ever new challenges for engineers and developers in the electronics industry. According to the market segments (see Figure 1), very different end requirements exist for these components – although the trends are often similar. Many of these are becoming smaller and more compact and the expected lifetime of the components is increasing.

Figure 1: Market segments of the electronics industry

There is no doubt that the miniaturisation of electronic modules enables the modern design of different end uses. However, this also results in technical problems: smaller surfaces impede the dissipation of heat and can cause local overheating. The ever smaller spacing between the components leads to higher potentials and thus to an increased risk of corrosion and dendrite growth. Weather conditions, such as temperature fluctuations and the resulting formation of condensation, frequently intensify these effects. In order to ensure the functionality of electronic modules, even under harsh conditions, in many cases additional electronic protection is absolutely essential. With its Bectron® product line, ELANTAS Europe offers a comprehensive portfolio for the protection of electronic components. According to the requirements for the particular applications, one can fall back on different materials possessing different properties. All of these can however be allocated to one of three basic protection classes (see Figure 2).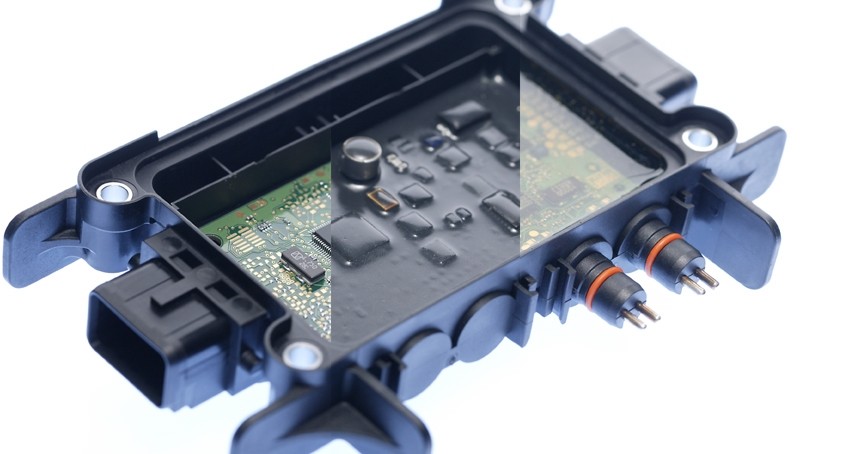 Figure 2: Protection of a PC board with a thin film varnish (left), thick film varnish (middle) and complete potting of the module (right).

For simple protection against dampness and dust, thin film coatings often find use. These have typical film thicknesses of less than 100 µm and are applied with brushing, dipping or spray methods.

Another protective method is the complete potting of components. The potting of modules is frequently used for applications under extreme operating conditions. This offers the best possible protection against corrosive gases, aggressive chemicals or mechanical loads and supports the improved heat management of the components.

Thick film coatings represent an excellent compromise between a thin film coating and complete potting. Compared with thin film coatings, they provide convincing improvement in protection and require less material consumption compared with potting, resulting in potential savings in terms of weight and costs.

The Bectron® product line offers innovative products based on different systems (polyurethane, epoxide, silicones, polyester, polybutadiene, acrylate, polyolefins) and all common curing mechanisms (e.g. UV, moisture and thermal curing), so that ELANTAS Europe has the right solution for nearly all application profiles (examples in Table 1).
Table 1: Examples of solutions for electronic protection
Type
System
Curing mechanism
Product example
Thin film coating
Polyester / Alkyd / Urethane
Oxidative curing
Bectron® PL 4122
Silicone
Moisture curing
Bectron® SC 76V1‑20
Thick film coating
Urethane / Acrylate
UV / moisture curing
Bectron® PT 4600
Polyurethane
Thermal curing
Bectron® PK 4340
Potting
Polyurethane
2‑component reaction
Bectron® PU 4526
Silicone
2‑component reaction
Bectron® SG 75V1‑15
Request your technical data sheet bectron.elantas.europe@remove-this.altana.remove-this-also.com
Just in case you cannot find the right product immediately in spite of the broad choice of material, our longstanding expertise and high backward integration enable ELANTAS Europe to offer the synthesis or formulation of customized products. For questions relating to all aspects of the selection and qualification of materials for electronic protection, this includes extensive application testing in our material testing or applications laboratories, within the scope of our all-round service, ELANTAS Europe thus ensures the reliable operation of electronic devices in spite of the growing challenges posed by the increasing miniaturisation of components.

In the upcoming issues of the Newsletter we want to keep you informed monthly about our solutions for the protection of your electronics and also offer assistance of a general nature in the handling of our materials. We look forward to your substantial feedback! Recommend us to others!
For questions about the choice of appropriate materials and application-specific questions, please feel free to contact us directly under bectron.ELANTAS.europe@remove-this.altana.remove-this-also.com.